« Terug naar overzicht
Emergency Response Service (BHV)
Friday, July 12, 2019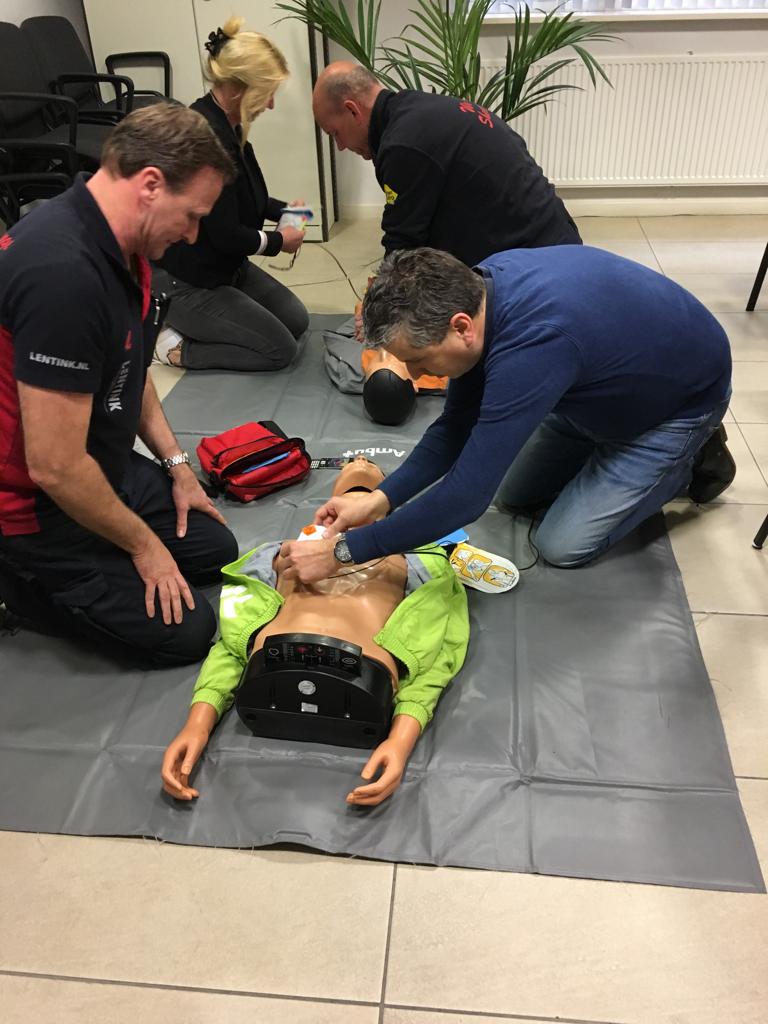 Being able to provide first aid to colleagues.
Like many companies, it is also important for Lentink employees that safety is always a priority.
How do we act at Lentink with regard to emergencies and BHV?
As with every company in the Netherlands, Lentink also has the Risk Inventory and Evaluation (RI&E) and a resulting action plan included in its business processes. Measures are taken in this action plan to minimize health and safety risks in the workplace.
What are the risks, for example?
These can be incidents or calamities that cannot be excluded, such as fire, flooding, gas leaks, power outages, bomb reports and medical necessities. In addition, there are company-specific risks that have to do with the nature of the work.
Within each organization, one or more prevention officers are designated who are an important link in the implementation of the action plan that results from the RI&E, including Lentink. Preventive means must be present in a building, such as extinguishers, fire alarm and evacuation systems. In addition, we have a number of BHV employees in the organization.
An in-house emergency service worker (BHV) is a designated person (or several people) within the practice who can perform the following tasks:
First aid in the event of accidents;
Fighting fire;
Evacuating employees in emergency situations.
What is the aim of providing calamities and applying crisis management training to our people several times a year?
Practicing a crisis situation is an important tool in preparing for potential incidents. It promotes the knowledge, insight and professional skills of the members of the crisis team. It promotes the mutual cooperation and communication of the members of the crisis team and the performance of aftercare tasks after an incident.
An enthusiastic group of employees practice dealing with calamities several times a year within Lentink. Partly by giving these in-house emergency response staff a BHV refresher course annually, and in part by organizing company-specific exercises.
This permanent group of emergency response volunteers has taken on the task of ensuring that immediate action is taken in the event of an emergency and of bringing the people present to safety as quickly as possible if necessary.
Thursday, June 6, the employees of Lentink were surprised by a company alarm report. People were escorted quickly and adequately because it turned out to be a fire alarm exercise. From this exercise, conclusions are drawn about what could be improved for the next time with regard to the evacuation and the management thereof.
A few days ago (15-07-2019) the BHV team held another exercise. Everyone has implemented the instructions from the emergency response team members properly and adequately. It was again an educational exercise for the employees and the emergency response officers. Based on this, it was decided that in the event of an evacuation, everyone should be outside the building for 5 minutes. This is a set and realistic requirement from the BHV and management. Given the reasonably fast practice evacuations, this requirement must also be easily achievable.
On behalf of all Lentink employees, we thank this team for their extra commitment to the safety they provide for everyone.