« Terug naar overzicht
"Problem shooters"
Tuesday, November 19, 2019

Lentink Technical Service; "Problem shooters" or more than that?
Within a production environment such as that at Lentink, a Technical Department (TD) department is indispensable.
The many machines and equipment that are installed within Lentink all need their regular maintenance and inspections. Also, new machines and equipment must first be inspected by our TD before they can be used in the factory. They are checked by the TD for proper connection, safe use and compliance with safety standards. They also take care of the maintenance of our buildings, the changes, renewals and repairs.
As with most production companies, their objective, as well as their priority, is to keep the machines running technically and related production means to prevent stagnation in our production as much as possible. Deliveries to our customers are a priority! Ad hoc situations occur at unexpected and usually unfavorable moments, where immediate action by the TD is priority 1. Naturally, this type of production calamities / disruptions cannot be planned. After these kinds of unforeseen incidents, we try to get things started again as quickly as possible, because downtime in production naturally means that unforeseen costs immediately arise due to unplanned downtime. Of course, standstill hours must be made up again to get the schedule up to date again. This can be done by rescheduling or, in the most extreme case, by 'turning up' extra in the evening and / or weekend.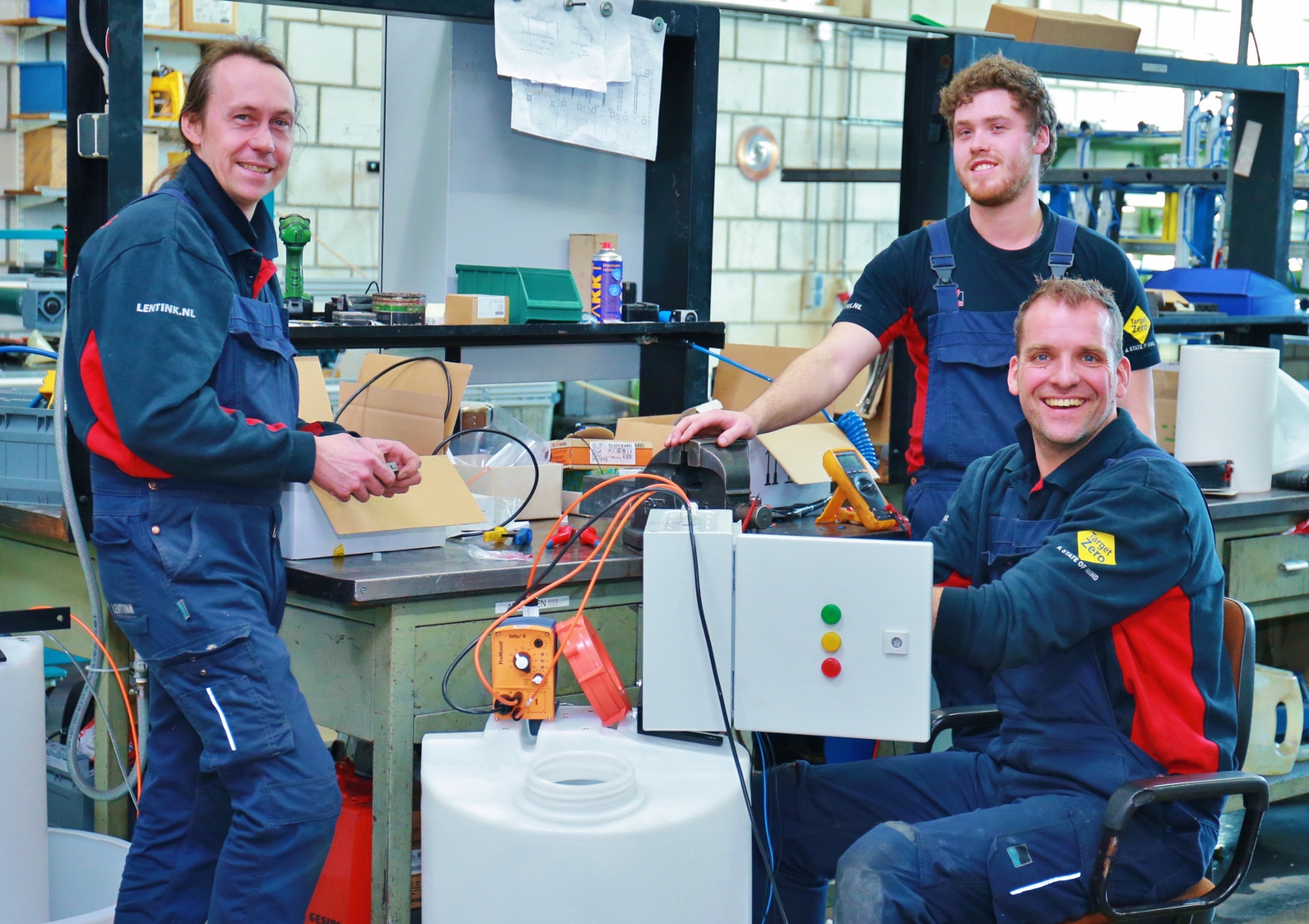 The Lentink TD team. fltr: Rudie, Bas and Mike.
Lentink has set the goal of being operational again within 24 hours as far as that is within the possibilities of course. Consider, for example, having control panels, hydraulic pumps and other parts of our presses and machines in stock or on call. Lentink is able to provide a 630 Tons press with a new heavy pump within 8 hours in order to be operational again. The full deployment of the TD is a matter of course. Of course, third parties are regularly called upon, for example by renting a heavy crane or the use of specific technical knowledge by selected suppliers. The TD can be widely deployed by the necessary training, knowledge and experience of years.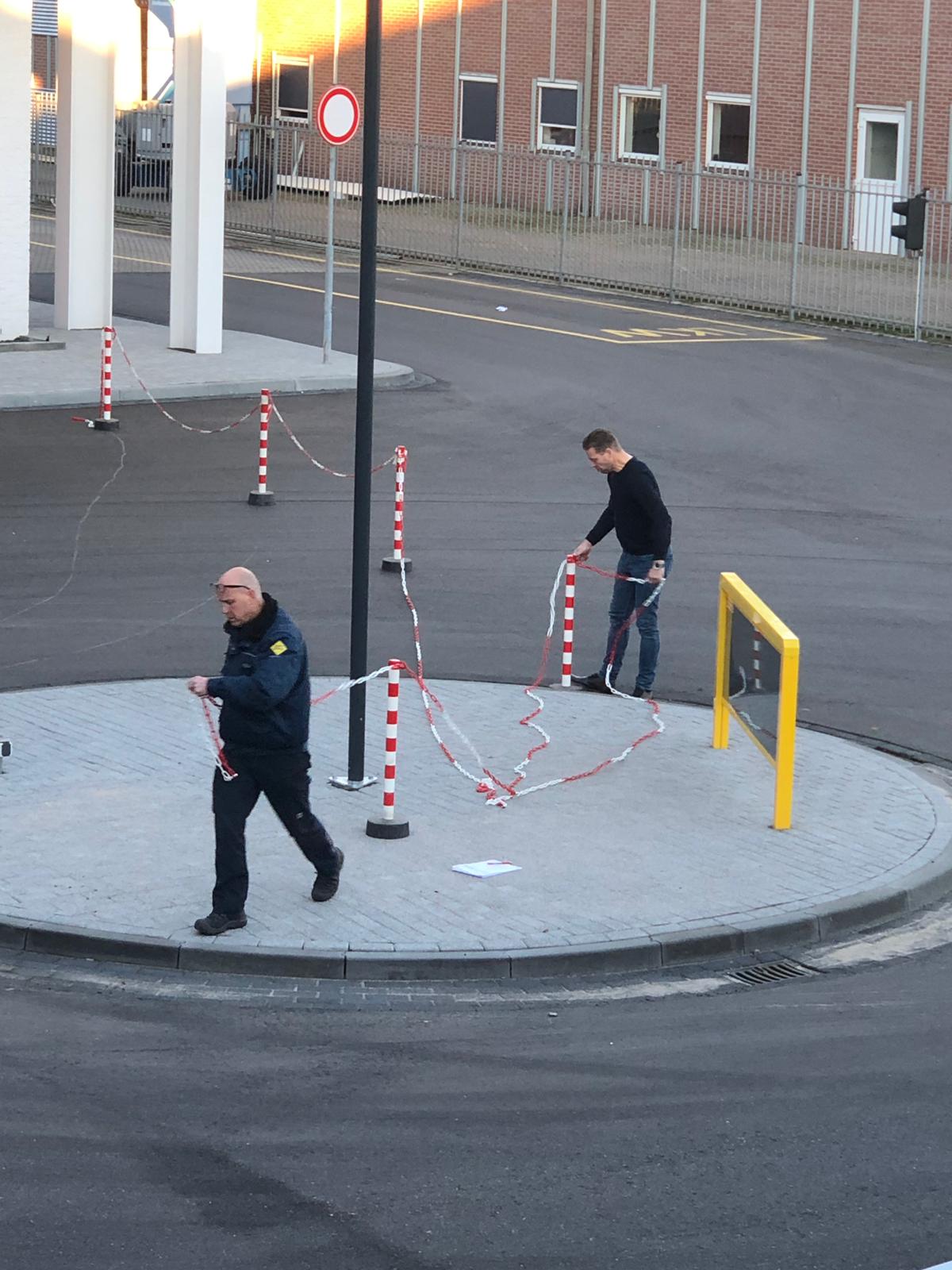 Protect the environment. Bennie van Goods reception and Daniël (director) help with setting up the environment.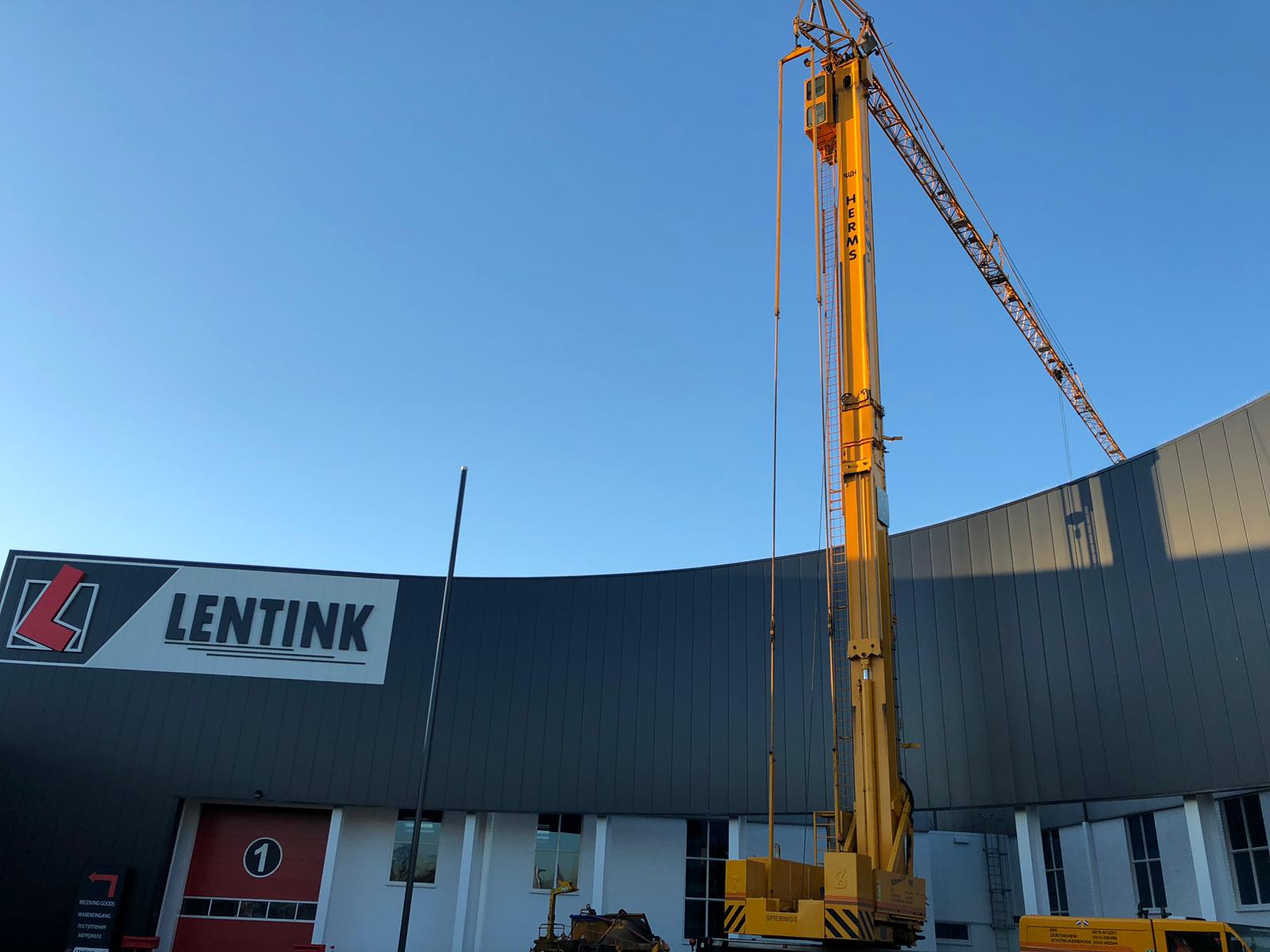 The crane lifts the oil pump through the roof from the press.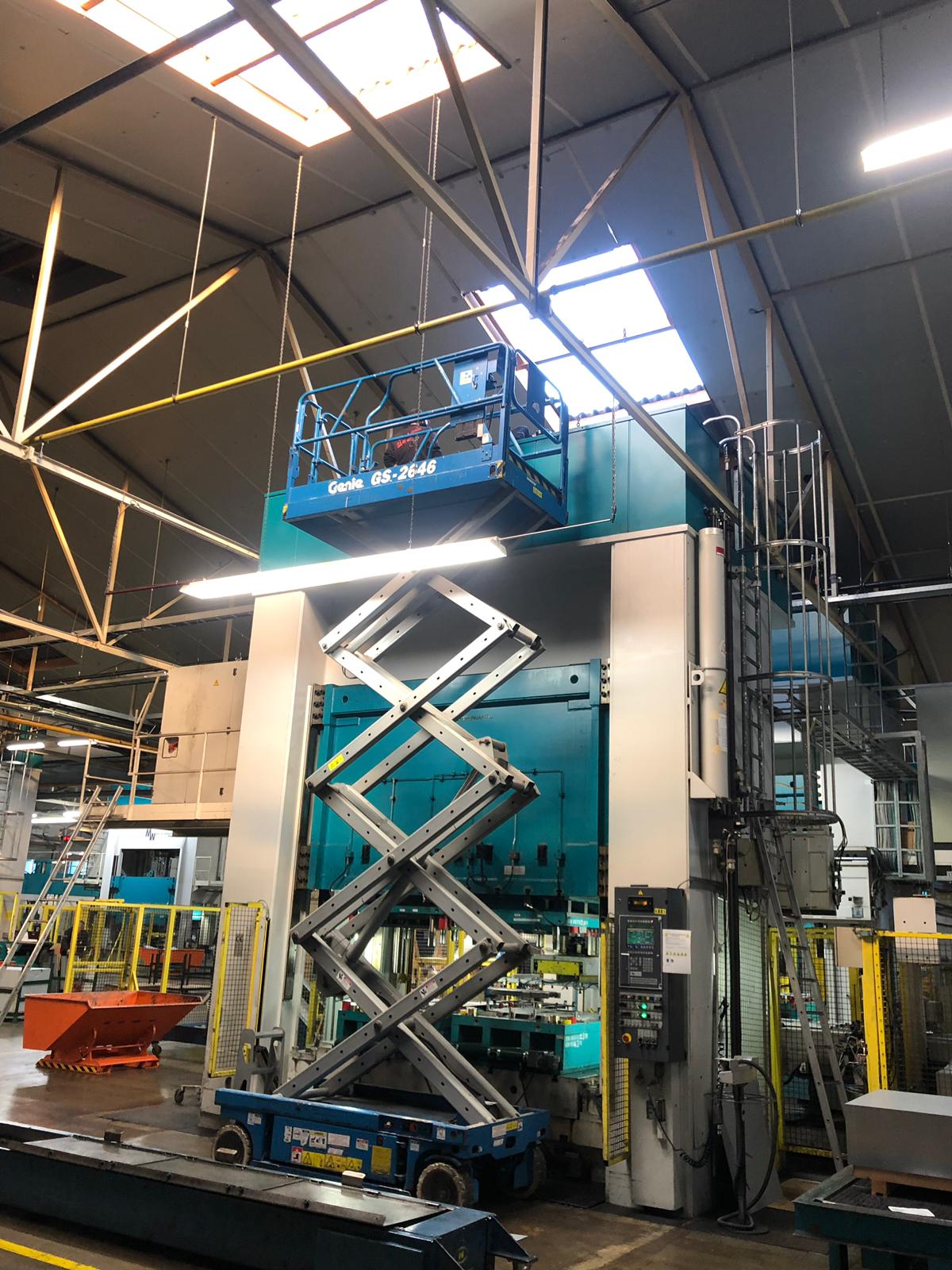 The oil pump is made ready to be hoisted through the roof.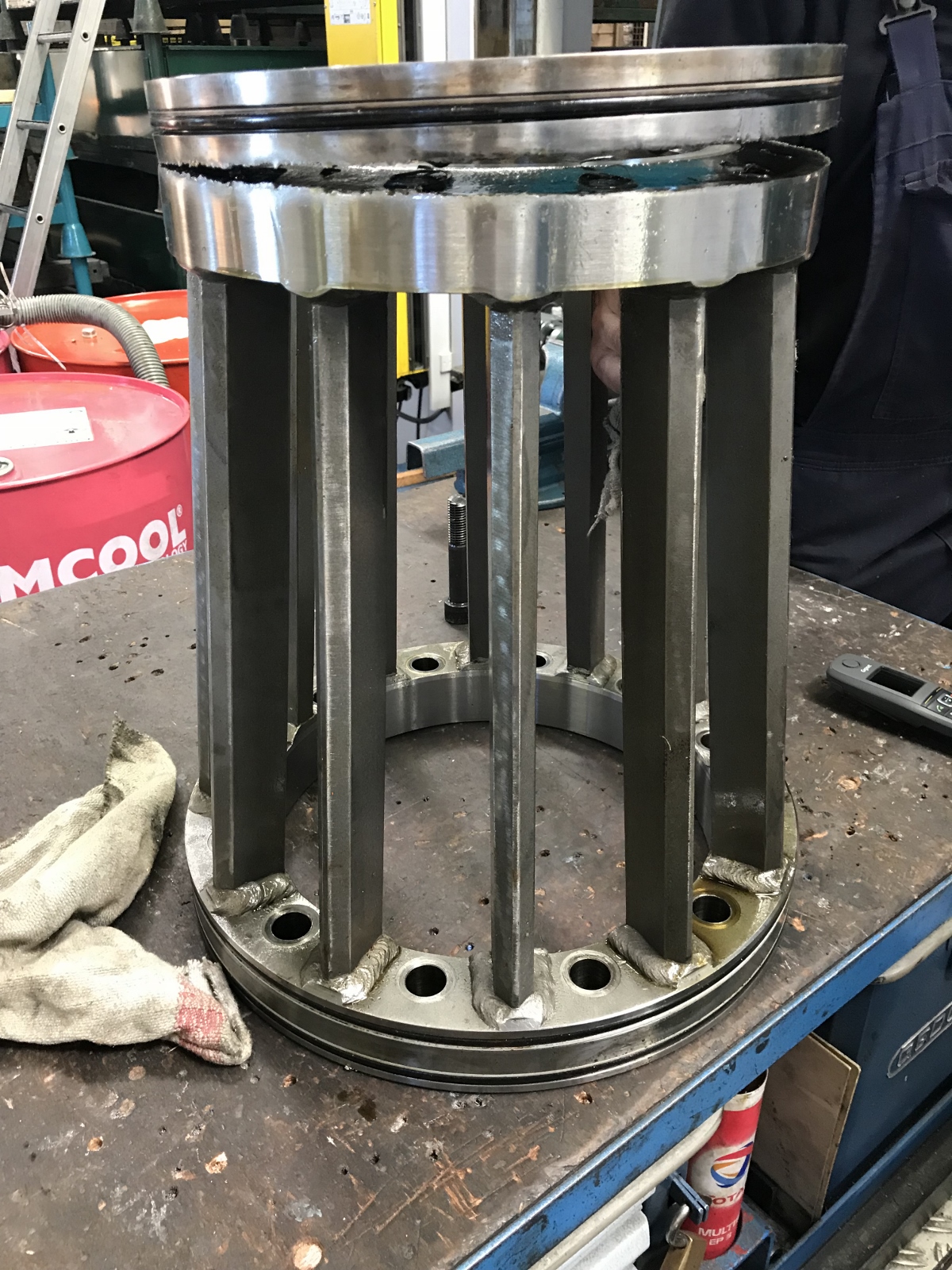 The torn plunger / piston.
Apart from maintenance of the building, offices, plumbing, machines, means of transport and other technical matters, the TD is also regularly challenged to develop completely new machines, together with our engineers and tool maker. The necessary knowledge of our technical team is then required on both pneumatics, hydraulics and electrical engineering. Many machines developed and thought out in-house have been made operational at Lentink.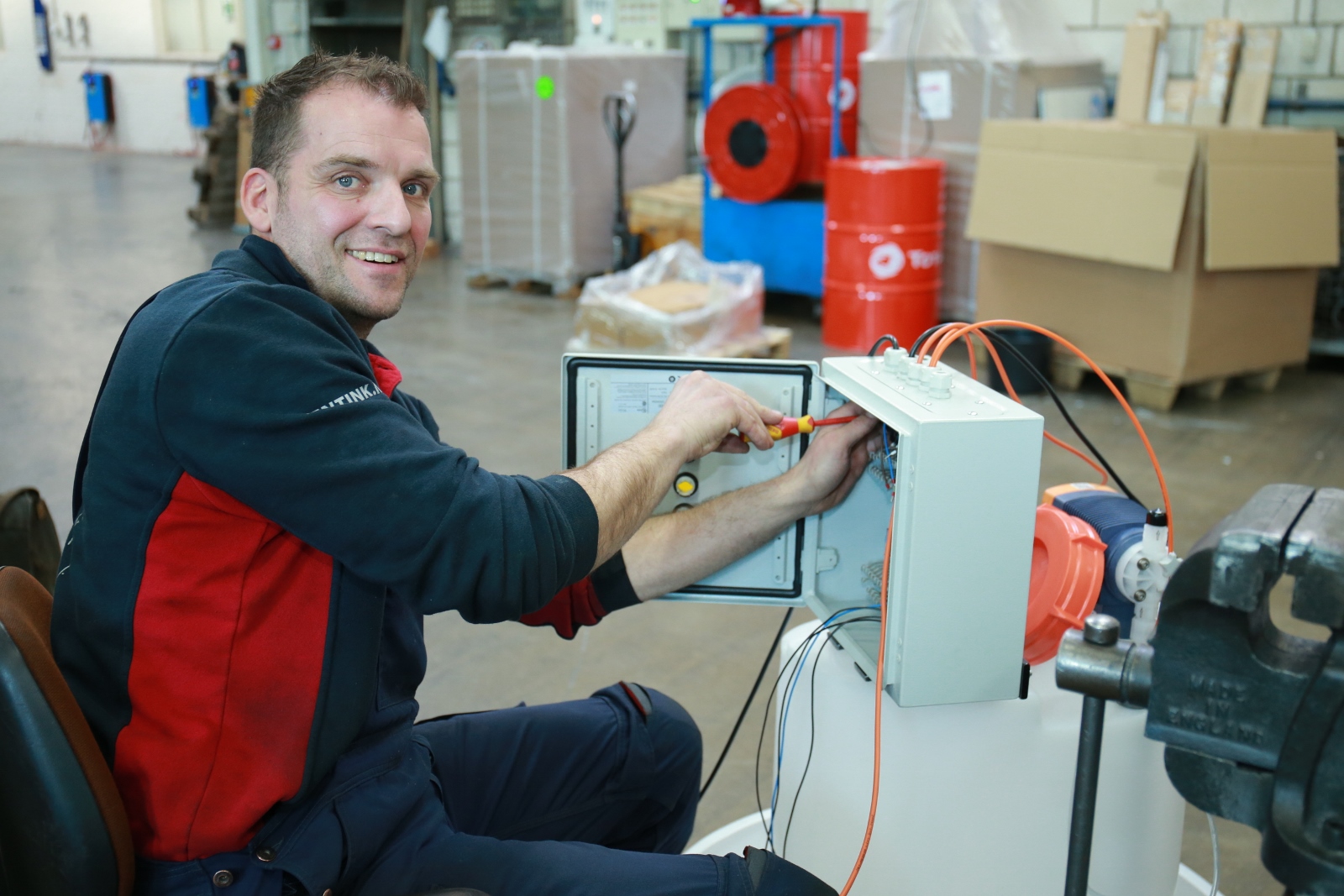 Mike working on a control box.
The TD is an enthusiastic group of men who, as a team, can apply their affinity with technology on a daily basis. Mike himself describes the TD department as an important point of support within the organization, which helps ensure that Lentink's production continues to run as smoothly as possible. " We are a kind of ANWB breakdown service from Lentink: if a problem occurs, we will immediately help our colleagues". Together with Rudie and Bas, these three men are a close-knit team that works together and jointly shares the enthusiasm for technology. The tasks are discussed and divided every day. "With Rudie as the team thinker and Mike as the doer, we complement each other nicely," says Mike. Bas follows one of us or is very busy under the guidance of one of us. We never know what the day, except the planned actions, will bring us again. Every day is a new challenge with the necessary learning moments in it ". And the men learn to do that to be up to date with the latest technology. Many times the school desk is looked up again. Bas is still following a part-time course paid by Lentink at Graafschap College. "Training is also a nice donkey bridge to the internships that we always have available at Lentink, also on the TD. We think it's great to teach young people the craft and to make them enthusiastic about technology, just like we do. We always have room for trainees . What could be better than to come up with your own machines and solve related technical problems ", says Mike!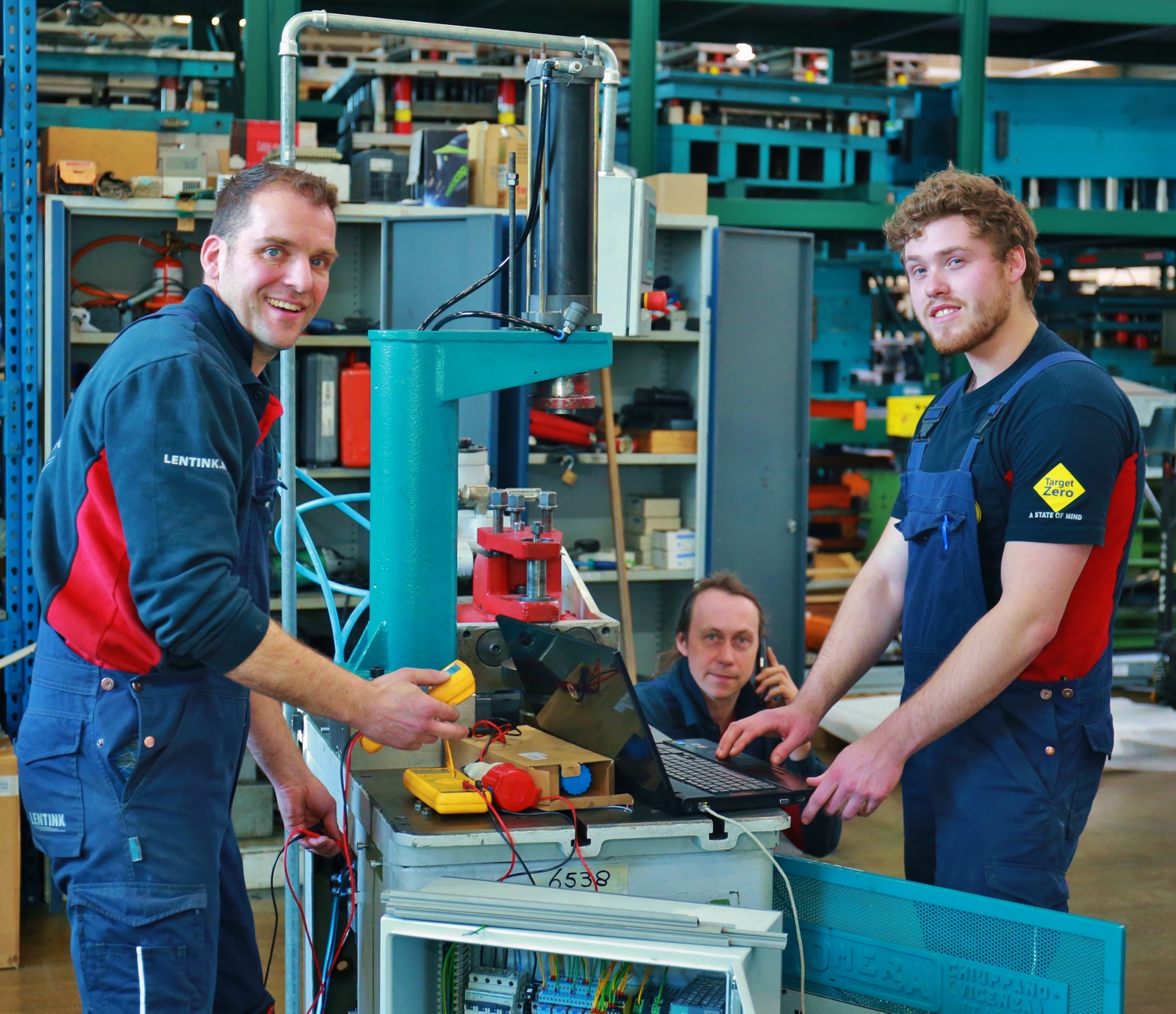 Working together in a team.