« Terug naar overzicht
Open day AT school
Monday, January 27, 2020
Lentink active at the AT open days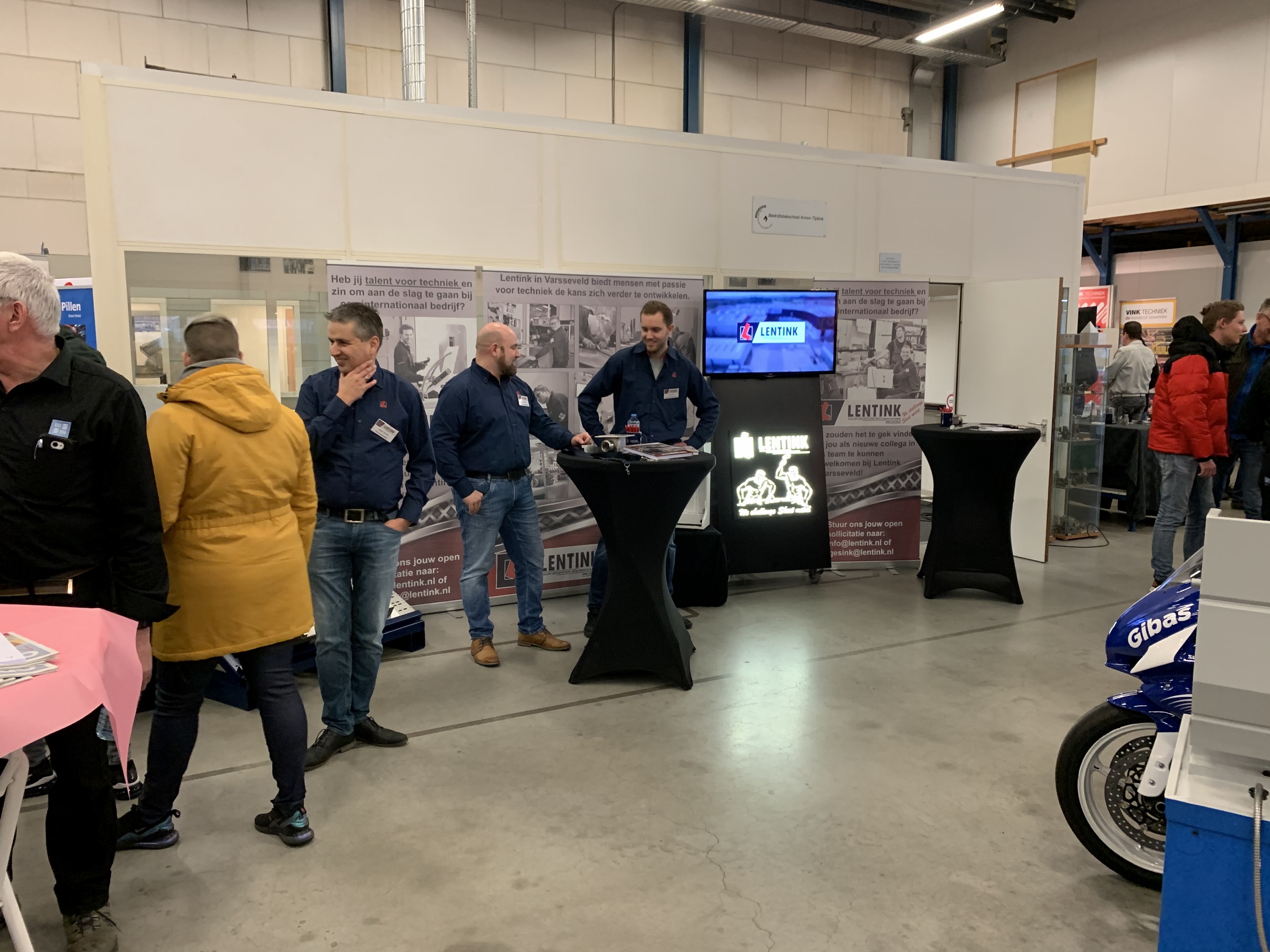 Last Friday, January 24 and Saturday, January 25, René, Jeroen and Rick from Lentink were again represented at the open days of the AT Techniek courses in Terborg. The business community in the region has the perfect opportunity on these days to show (future) students and their parents and family in which beautiful professions you can work if you choose a future in technology.
Within Lentink in Varsseveld there are enough opportunities for this to make a career choice. Whether it concerns the operation of a press brake, a laser cutting machine, a welding robot, a press or a paint shop, for example, Lentink has it all in-house. We can deploy people everywhere, whether it is a managerial position or a supporting position choice under one roof. Within our tool maker and technical department, we also offer plenty of other technical challenges such as turning, milling, wire and zinc sparks or projects in the areas of mechatronic, hydraulic, pneumatic or programming. And whether it concerns the construction of a special machine that will be put into use in our production, or modifications to existing tools: Lentink will gladly offer you the possibilities to further develop you personally in these areas. Moving on internally at Lentink to another profession as a follow-up to the chosen career choice at the intake, is of course also possible.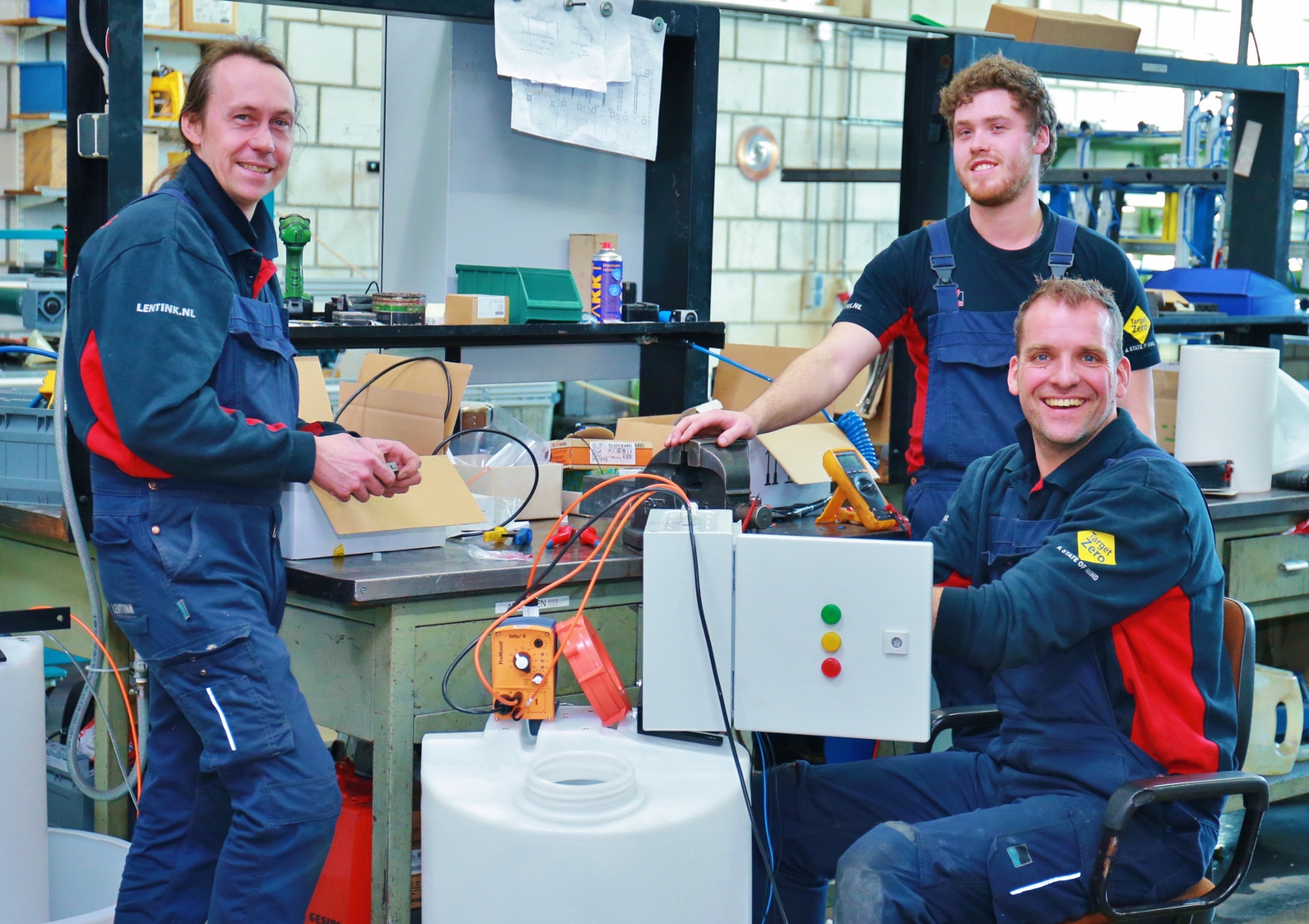 During the well-attended days, we had countless conversations: with young people who are really orientating themselves to young people who have already made the decision and who already know that they want to continue in metal technology. This is very nice to hear and we are very enthusiastic about it. Young people (and their parents) who see technology as a great challenge with sufficient employment for now and later.
The follow-cut-bending stamp of almost 1500 kg that we had taken with us on the stand was a good reason to talk to people about the possibilities that we offer our customers in Europe and beyond and what all of this involves. you work within a company such as Lentink. The great surprise that we can observe during the conversations with the visitors when we tell them which products all leave our company in Varsseveld on a daily basis and where they all come across, remains beautiful to see.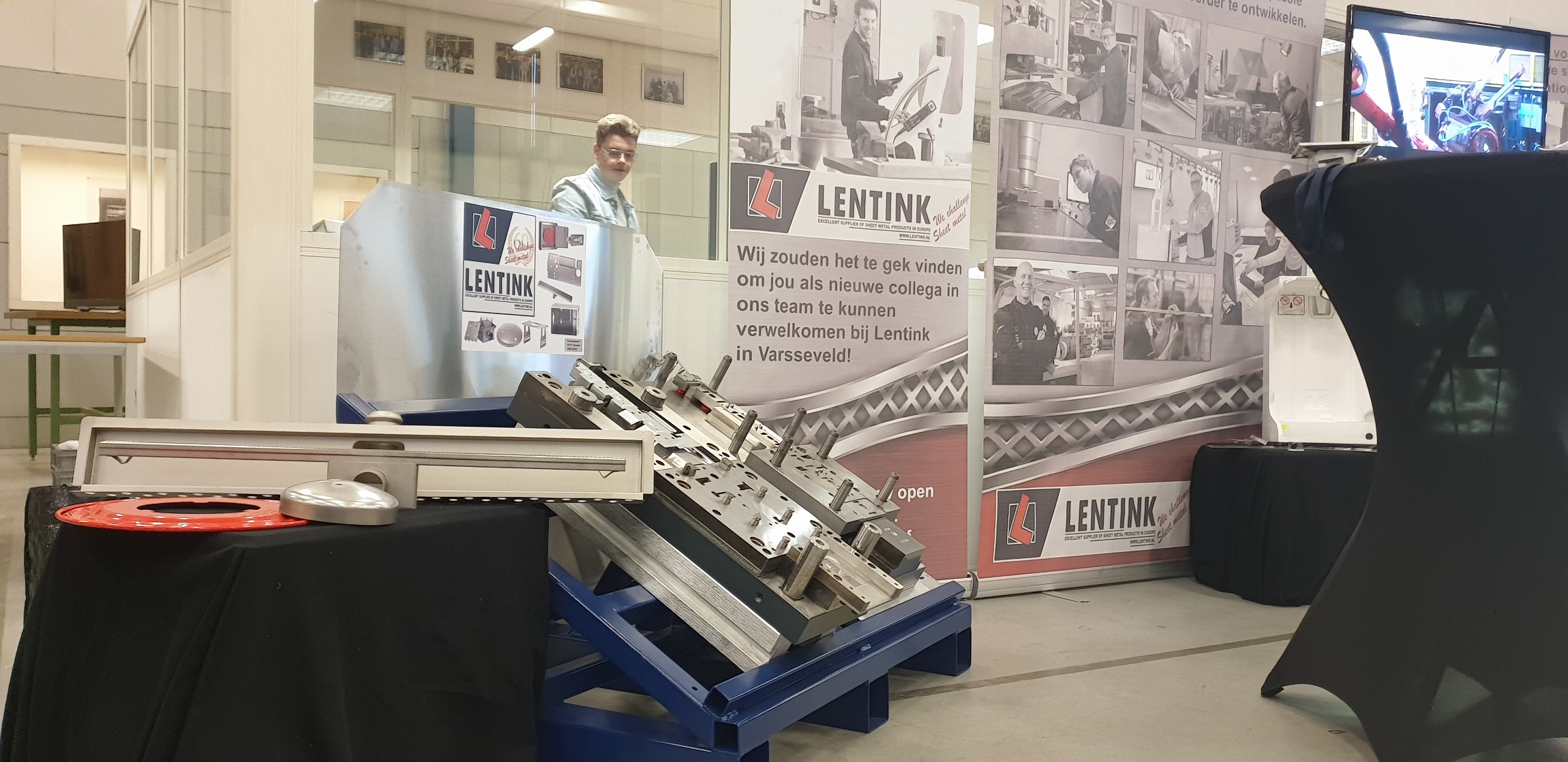 Many people are surprised that Lentink, for example, is the largest supplier of central heating boilers in Europe.
And the more than 1 million central heating boilers per year are produced and supplied daily for various major well-known brands in Europe, in Varsseveld. Think of Remeha, Bosch, Nefit, Atag and Vaillant for example. From the smallest household central heating boiler of 15 kW to the large 250 kW industrial heating boiler. But also various products for daily use, such as the shower channel at home and the stainless steel meat-cutting machine at the butcher, right up to the diesel tank of a Scania truck; "It's all made by Lentink in Varsseveld". (More info: www.lentink.nl or download our app in the store under: Lentink.)
"It's all made by Lentink in Varsseveld".
Did you not have the opportunity to visit the open day and you still want to enter into a personal conversation with our colleague of human resources. (HRM) Please feel free to contact Jeroen, so that we can still make an appointment with us at the company in Varsseveld. At Lentink in Varsseveld we are happy to show you in practice what Lentink can mean for you in the near future! ( jgesink@lentink.nl ) Jeroen Gesink HR manager Lentink.
We would also like to thank AT-technology training courses again for their hospitality and the well-organized organization of these two days.