« Terug naar overzicht
Test stamping at Buja
Thursday, March 5, 2020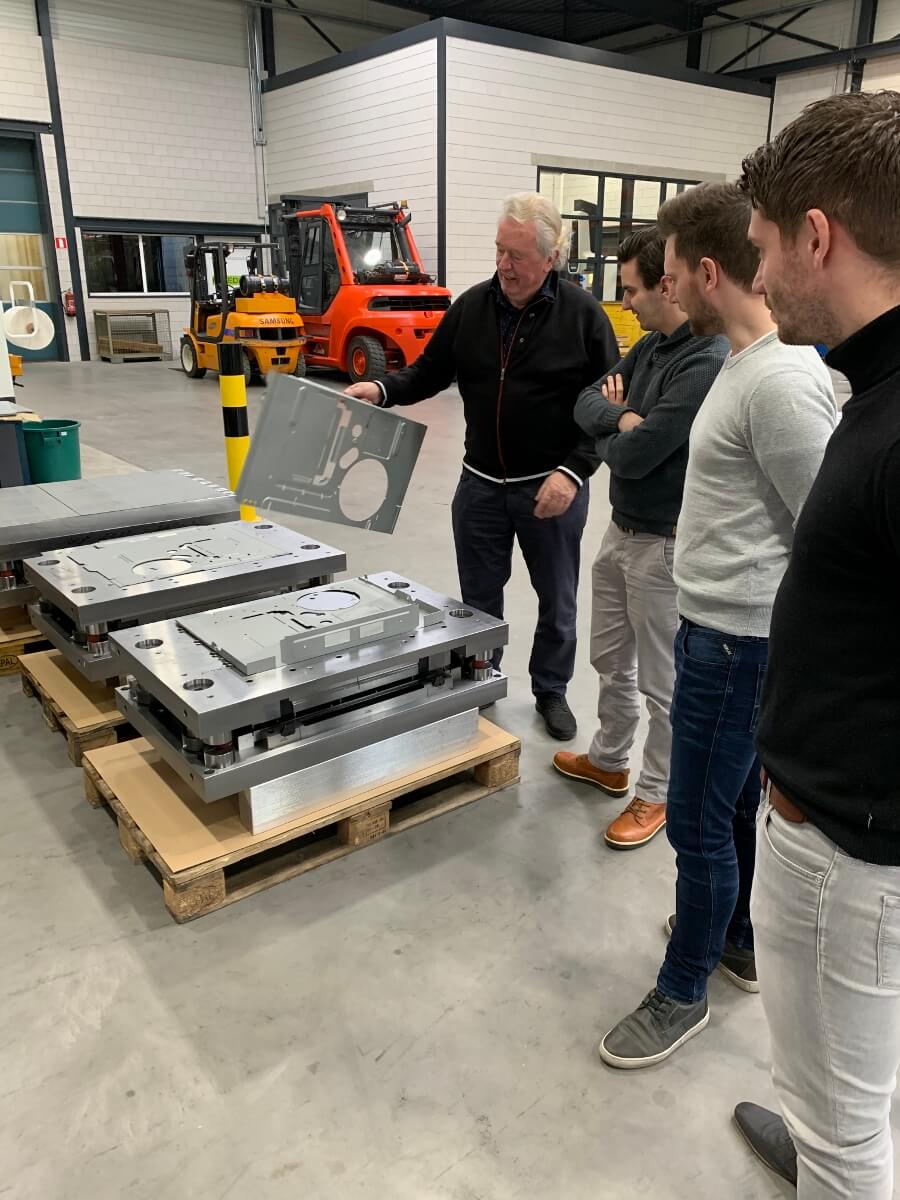 Friday 28-2-2020
Test stamping at Buja Metal.
The ATV afternoon well spent.
On Friday we left with four people from the Lentink front office department to Buja Metaal, our largest supplier in the field of production tools. We at Lentink Front Office have never had the opportunity to visit Buja, while we have a lot to do with them as an organization that purchases a large part of the required tools from them. Around half past one we arrived at the destination and were met by Frans Jansen, founder and owner of Buja. As agreed, we first enjoyed a large Brabant cup of coffee and a sandwich with him. Mike, Frans's son, also joined us a little later. Mike has been managing Buja for a number of years with his father, but father Frans, 71, can still be found daily in and around the company, which he recently had completely renovated.
After lunch we were given the tour. Frans passionately explained how it all started in 1980 in a small factory. Now 40 years later, there is a beautiful tool maker and Buja has 17 employees who produce advanced machine and tool parts every day. Buja produces, among other things, high-quality technical parts for ASML in Eindhoven by means of 5-axis milling machines whose frame and cooling are continuously kept at 21 degrees. They work with various machines in the thousandth range such as milling benches, wire sparkers (EDM) and grinding machines. A special measuring room has been set up to be able to check the products in the meantime and after they are ready. The company is larger than what we initially expected from a Dutch tool maker. What really appealed to us was the order and tidiness in the company, which at Lentink we also see as the most important condition for maintaining a healthy business philosophy, order and tidiness. People work in a structured way and neatly keep the workplace clean together. This can also be seen in the beautiful, sleek tools that are usually delivered to us without any problems to run production.
Frans and Mike proudly show us their machinery; many large milling machines, wire sparkers, grinders and a 500-ton press to be able to try out tools before they go to the customer for testing and production. Perfect for testing before the tools go to the customer to run large series. What struck me during this tour is that Buja from A to Z does everything in-house. From drawing, producing, to testing the production tools. We receive text and explanation in every department. It is special to see what you can make of a piece of steel or aluminum for beautifully complicated products. Buja makes a lot of follow-cutting bending and transfer tools (called stamps) for Lentink and we also see these in their factory where they are still making the necessary (parts) parts, which are then assembled into a complete tool will become. After the tour, the day ended in an appropriate way in an establishment literally on the edge of the border with Belgium.
On behalf of Bob, Ruben and myself, we want to thank Frans, Mike and Martien very much for your Brabant hospitality and educational afternoon.
Report: Tim Bennink (also known as Tom)