« Terug naar overzicht
Vacancy newspaper
Friday, October 21, 2022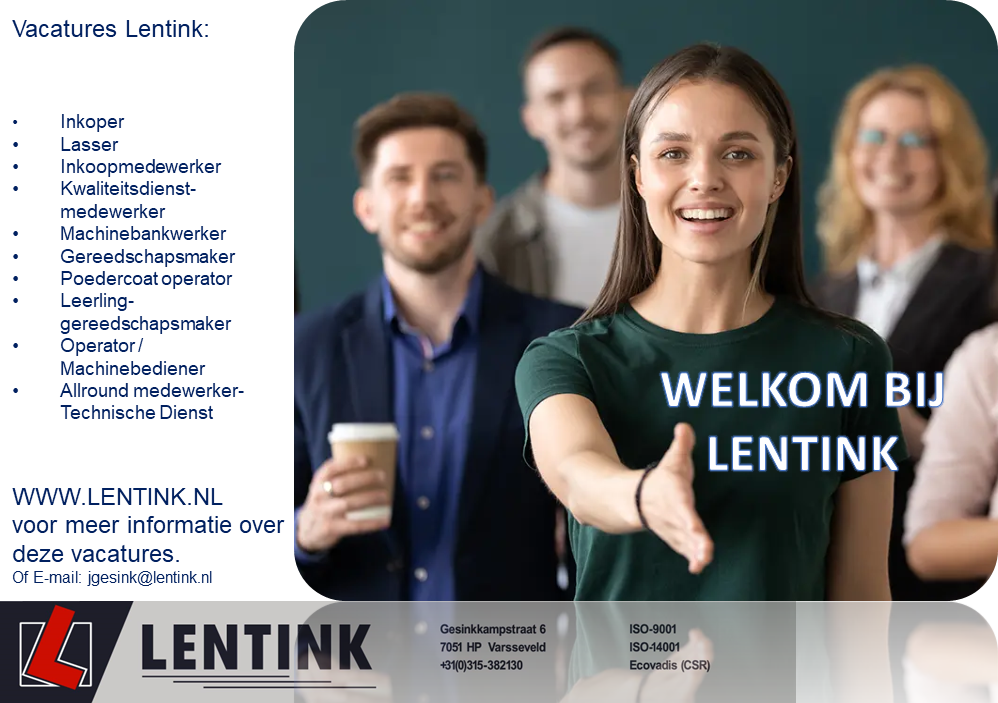 Working in a stable company with a future!
It is striking that during a tour, applicants are quickly impressed by Lentink as a company. This is partly due to the size of the company, the many large machines, but even more so how clean, light and tidy it is at Lentink. People are positively surprised by the many recognizable products of the various European renowned customers of Lentink. Many visitors simply do not expect this in Varsseveld. "People are really impressed"; says HR manager Jeroen Gesink. "And although not everyone knows Lentink, when they see and hear which products Lentink produces daily in large and small quantities for various markets such as the heating, fire safety and sanitary industry, they are positively surprised because they usually also have one or more of those products. themselves in their own house that is made by Lentink".
In its 65 years of existence, Lentink has always focused on the future and that is still the case today. As the largest producer in Europe of various components and housings for central heating boilers, the production step towards hybrid systems and heat pumps is an obvious one. As a company, Lentink has been central to its regular customers for years, given the many contracts that have become available as a result of the energy transition and have been awarded to Lentink. Partly due to the many long-term assignments and cooperation contracts, the future looks very healthy and positive for Lentink.
Lentink is known as an employer that his employees are usually loyal to the company for a very long period of time. This can also be seen on the Lentink news site, where many employees have celebrated their 25 years working at Lentink. "In order to keep the growth in balance, the necessary new people have been brought in as permanent staff in recent years. At the moment there are still some very interesting vacancies to be filled with a view to a permanent job at Lentink. There are plenty of opportunities at Lentink for people who want to work for a healthy, beautiful, technical company that is at the forefront of the technical production chain. Lentink will also continue in the coming years with new projects and major investments such as a new press line, solar panels, automation, new construction and the renewal of the existing powder coating lines with the aim of reducing energy and CO2 emissions.
Lentink is a family business that takes good care of its staff. In addition to work, according to the owner Daniël Lentink, a good (staff) party every now and then is important.
He shows his appreciation towards his people with great regularity, for example by means of a nice Christmas package and a well-maintained Christmas and holiday drink. "Time to relax, and to celebrate successes together, is just as important as work. Just like in 2019, we have booked the Austrian Grand Prix again for 2023 with a large group of interested Formula 1 employees from Lentink."
Would you also like to participate in such a modern technical enterprise?
Check out: www.lentink.nl for current vacancies.
E-mail to: jgesink@lentink.nl