The quality service checks the quality of a process, product or service according to established Standards.
My name is Jack Basters and I am responsible for the quality service.
How did you end up at Lentink? Was there advertising for technology?
I came to Lentink via Vacancy alert. My search profile was listed there. So I was subsequently approached by the Lentink company.
When did you start at Lentink?
From November 1, 2017 I started my work at Lentink in Varsseveld with great pleasure.
Tell us more about that.
Every day me and my colleagues take care of guaranteeing and controlling the processes inside and outside Lentink, which also ensure that products can be produced qualitatively in accordance with specifications and processes. We now manage to implement ISO TS 16949 within Lentink. That is our first major challenge that I want to achieve with my department and Lentink as an organization. That is a great challenge that has been imposed on us.
Why did you choose Lentink?
The function and the company appealed to me in the advertisement.
I had already applied to Lentink but was overweight. Subsequently, the vacancy of Main Quality Service became available and I was approached by Lentink because the vacancy did fit in with my knowledge and experience.
How do you like your work? Do you like the technology at Lentink?
I like the work perfectly. I fit my position in the Lentink organization like a puzzle piece and I felt at home from day one. Especially the variety of people and the various daily items mean that you have to be able to switch a lot.
What do you think of your workplace?
It is a clean company where everything you can imagine is present. If it is not there, it can be discussed with the management to purchase it. It is also close to my place of residence for me, so that is a nice side effect
How is collegiality among each other? The atmosphere?
The friendliness and the sense of family are a very important point within this company.
Our owner's director is one of us and we are one of him and that's nice to work with. It is reallyone large team within Lentink that you can easily be included as a newcomer. Together with my colleague, we ensure that everyone with quality-related matters is served as quickly as possible.
Do you also have personal interests and hobbies?
Everything that has to do with technology, such as cars and model trains.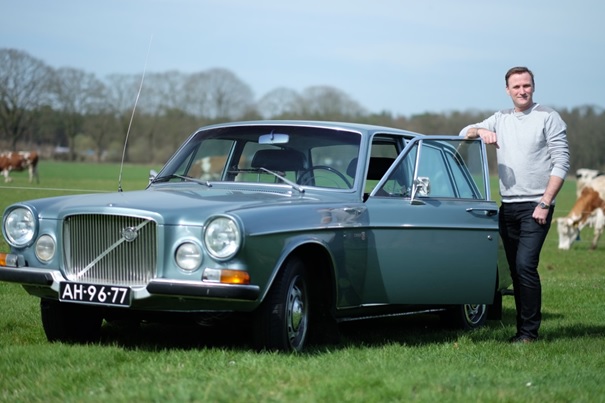 My old Volvo 164 is a personal hobby of mine where I spend a lot of time in my free time. My model railway covers an entire attic floor that I have been working on for years. By the way, I like it that several colleagues at Lentink have the same hobby a Märklin model railway.
Another anecdote or nice experience within Lentink that you would like to share with us?
I have never experienced that the director of a company of this great self sits on the sweeping and mopping wagon and really moves among the people in the workplace. He knows what each person's name is and how the flag hangs, unbelievably. Our organization is really a flat system with a streight culture; say what you think. Really nice and honest, but also confronting.
What would you like to recommend to the management of Lentink?
Keep it up and hold on to growth as a whole. I would like to continue to contribute to even more success. Well, try to get more different products as an order, we have more than enough capacity in-house
Do you see the company improve and grow?
Continue to improve and invest etc. In the short period that I have been here I have often been surprised. Daniël has really made from an old chicken shed a beautiful European international company. Both inside and outside, he has given the company a new modern twist with few resources, of which we are all very proud. What I also want to give to the readers of this interview is the fact that renowned new and existing customers are always positively surprised about the quality of the entire Lentink company. And those are people, managers, CEOs and buyers, who have already visited many companies in the world, but where they have not found a company as neat as at Lentink in the metal. That is really a compliment or not !?
Do you have a personal wish?
Keep it up, I hope to be able to participate for a long time with this team of 135 people
How would you recommend people outside of Lentink to opt for technology?
The technology is no longer a thing of the past and certainly not at Lentink. Computers, robots and people go together perfectly here within our automated production techniques.
Everyone here has added value and we are really trying to get people involved and warm up for working in technology at Lentink.